SERVING IN FAITH & FRIENDSHIP
Seasons change and our surroundings transform with new possibilities. As fall arrives, greenery gives way for our mountains to come alive in a blaze of red, orange, and yellows. The sweltering heat of summer submits to cooler, crisper air. And this year as things change at Colonial Heights Presbyterian Church, our front lawn is going to transform!
We welcome everyone to come and enjoy a new ministry: The Pumpkin Patch at Colonial Heights Presbyterian Church! Throughout the entire month of October, the Pumpkin Patch will be open to the public from 11am to 7pm with a variety of pumpkin products to purchase. All proceeds of this fundraiser will go to support the children and youth ministries associated with our church family.
Throughout the month, we will be hosting additional community events, such as a movie night, a Fall Festival, and Trunk-or-Treat! So come on down, buy a pumpkin, and enjoy some good community fellowship at The Pumpkin Patch at Colonial Heights Presbyterian Church.
Blessing Box
Take What You Need. Give What You Can.

A Blessing Box is a container stocked with non-perishable food items, basic hygiene supplies and baby items--things that would be a blessing to someone who finds themselves in need. ANYONE is welcome to take items, and anyone can provide items for the box.
Our Blessing Box is located next to the parking lot in front of the church/Jones building. Feel free to drop by anytime and make a "deposit." Canned goods, non-perishables, individually wrapped snack items, personal care and baby items are appropriate. Please NO GLASS OR SHARP ITEMS.
For more information on how this movement started, visit littlefreepantry.org.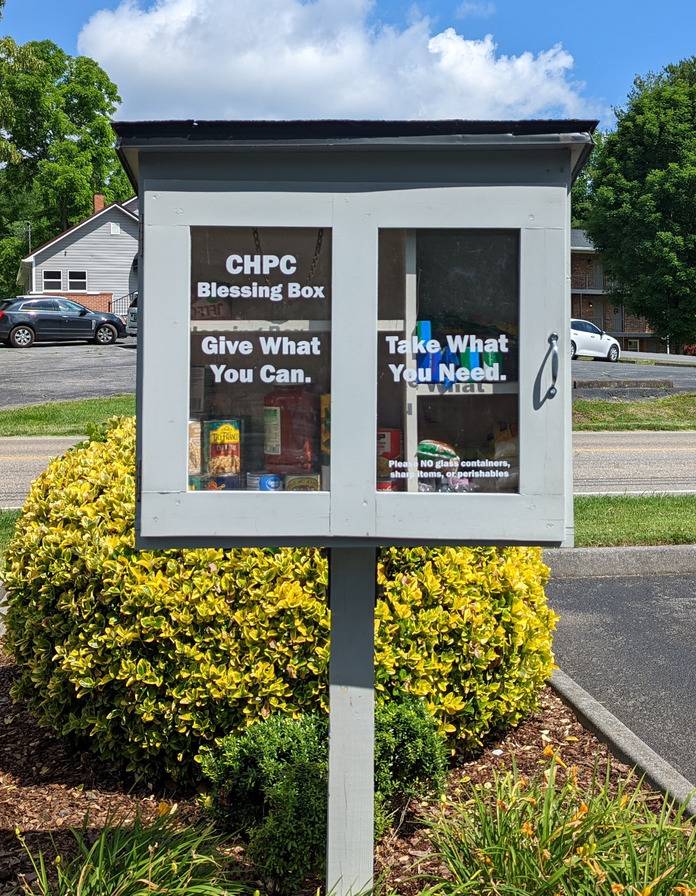 Holston Habitat for humanity
CHPC has been involved with Habitat for Humanity over twenty-three years. Habitat for Humanity is an international organization that seeks to share the love of Christ by creating partnerships with communities, families and volunteers to improve the quality of life for families in need by providing simple decent housing and opportunities for home ownership. Our church has helped complete over 25 homes. No construction experience is necessary to volunteer! Volunteers with all skills and from all levels are welcome to help on our next build.
CHPC & troop 48: Partners Since 1946
Troop 48 was chartered on November 29, 1946, making it the oldest Boy Scout troop in the Wilderness Road District. The Troop is also the largest in the Sequoyah Council. We're so glad to support this wonderful group of dedicated, thoughtful individuals!
Upcoming Mission Trip: Appalachia Service Project (ASP)
In October of this year, a group from our church will join other volunteers in Jonesville, Va. to volunteer with ASP. It is a great way to connect the energy of our youth and experience of our adults with the real needs of families in our region. Read our Minute for Ministry to learn more about ASP.

Please prayerfully consider coming on the trip in October, especially if you may be interested in serving as an Adult Leader for what we hope will turn into multigenerational trips in the future. Construction type skills are certainly welcomed, but the single biggest qualification for the trip is a willingness to enter the communities and homes of people with sensitivity, concern and love–accepting people right where they are and just the way they are. Contact Allen Booth or Mike Strickler for more information and if you are interested in participating in this ministry.
Still curious about ASP? Check out their YouTube channel to learn more about the ways ASP serves our region!